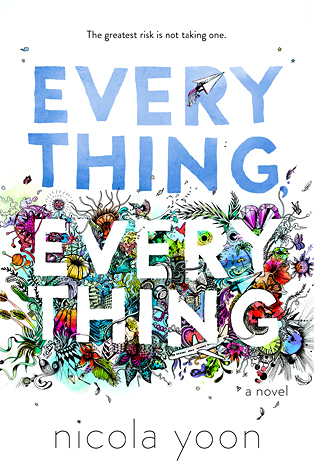 Rating: 4.5/5
"I might not be in love, but I'm in like. I'm in serious like"
Maddy spends all her days at home. She goes to school online, and only her nurse Carla and her mom visit her regularly. Everything she touches has to be sterilized, and there is an airlock in her house. Because her condition, SCID, means that even the slightest contaminant can kill her and that she's essentially allergic to the world.
But after her birthday, a new family moves in next door. There happens to be a boy: Olly. And immediately, he catches Maddy's attention. You can guess how the story goes from there.
I read beforehand that this book would be good for people who enjoyed Eleanor & Park (and who doesn't), and it's true. Because it's pretty much the same story. Another lopsided romance novel between two misfits involving family issues. Plus a plot twist, which was foreseeable near the end.
This non-unique premise didn't stop me from putting down the book every few chapters or so to squeal at the adorable-ness, that intensity of having a first crush. The feeling of slowly getting to know someone, the chats at 3AM in the morning, the lack of words when you finally meet them. The little notes Maddy writes to herself that unconsciously reveal her feelings. All these emotions are hyped up even more since Maddy has had barely any encounters with guys to this point, much less guys her age.
But all that youthful giddiness is mixed in with family issues, personal conflicts about what is worth dying for (literally), dry and sarcastic one-sentence summaries of classic books, journal entries, and the hum-drum of everyday life from someone who's confined to her room. Maddy is likeable and intelligent, and I kept laughing at her conversations with Olly through out the book.
All in all, a book with multiple layers and a refreshing and quick re-introduction into (unrealistic) realistic fiction.
Personal notes:
This was the first physical book I've read for leisure in a long, long time. Most other books I've read on my Kindle. But I happened to see this in my school library, and it was faster and easier to get than the OverDrive copy.
Maybe reading this book the weekend college apps were due made this a lot more enjoyable. (I managed to read this in front of my laptop without getting distracted.)
Crushes on book characters >>> crushes on people
Song: She Is, The Fray